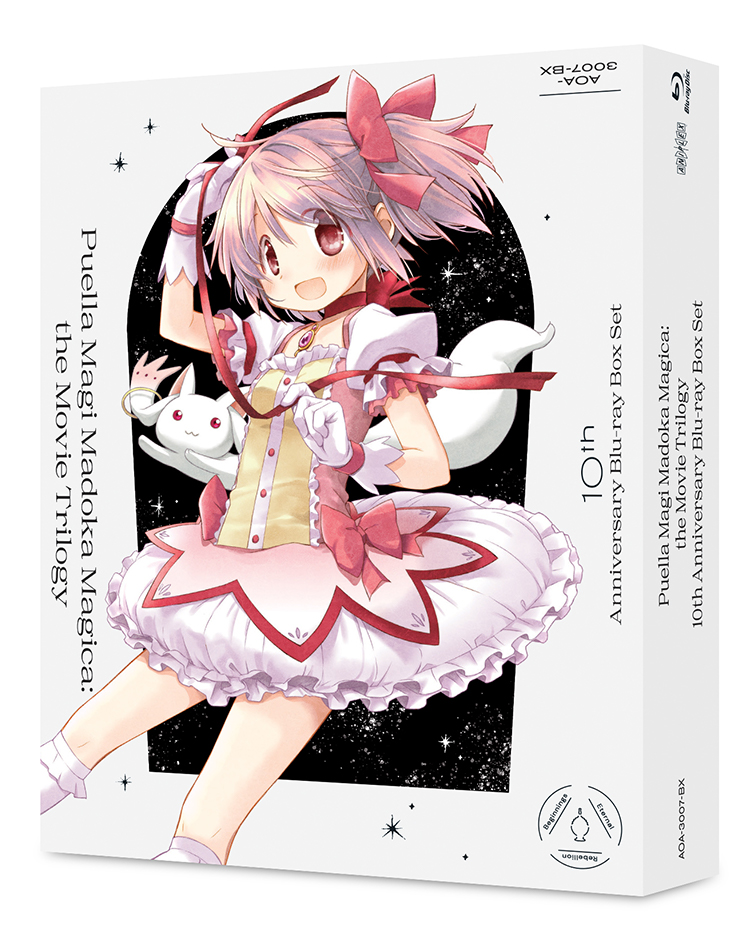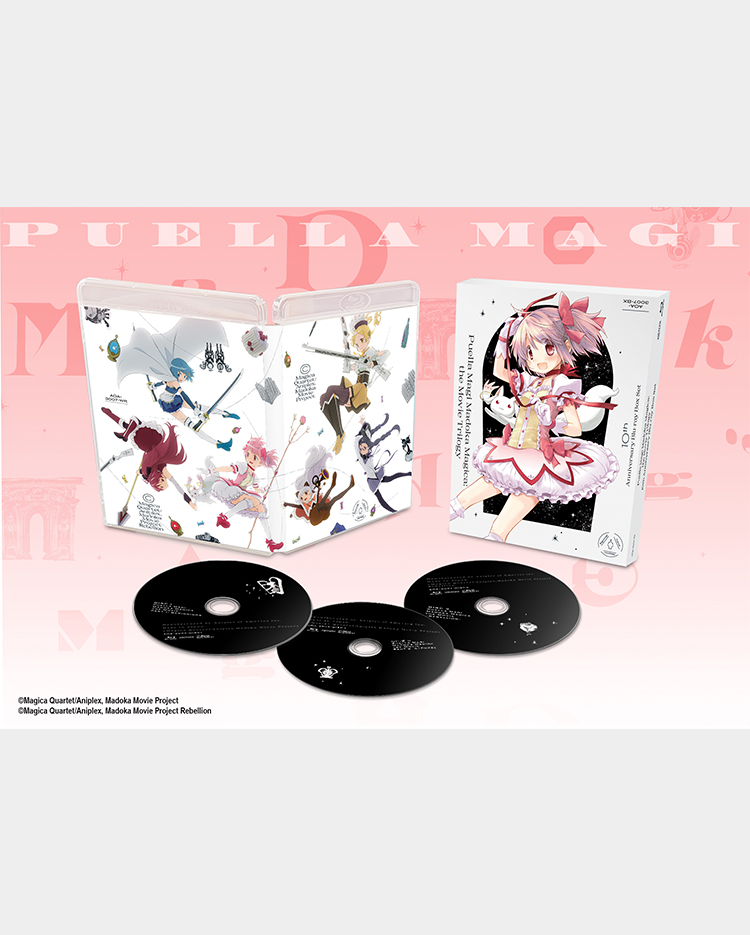 Puella Magi Madoka Magica:
the Movie Trilogy
Release Date: 07/20/21
Retail Price: $59.98 $74.98
Disk Spec:
Spoken Languages: English & Japanese
Subtitles: English & Spanish
Aspect Ratio: 16:9 HD Widescreen 1920x1080p
Episodes: 3 movies (Beginnings, Eternal, and Rebellion)
Number of Discs: 3 Blu-ray Discs
Total Run Time: Approx. 357 minutes
Rating: 13 UP
Bonus Content:
■ Textless Opening and Ending
■ Theatrical Trailers
■ TV CM Collections

*Bonus content subject to change.

* Bonus content include English subtitles.

Bonus Materials & Package:
■ Exclusive new illustration box art by aokiume (Original Character Design) and Junichiro Taniguchi (Character Design)

* Bonus materials subject to change.
SHOP


Original Story

Magica Quartet

Chief Director

Akiyuki Shimbou

Screenplay

Gen Urobuchi


(Nitroplus)

Original Character Design

aokiume

Director

Yukihiro Miyamoto

Character Design

Takahiro Kishida,
Junichiro Taniguchi

Chief Animation Director

Junichiro Taniguchi, Hiroki Yamamura

Sub Director

Hiroyuki Terao

Action Director

Nozomu Abe,
Tomohiro Kamitani

Alternate World Design

Gekidan Inu Curry

Art Director

Ken Naito

Art Setting

Moriyoshi Ohara

Color Setting

Hitoshi Hibino,
Izumi Takizawa

Visual Effects

Motoi Sakai

Director of Photography

Shinichiro Eto

Editing

Rie Matsubara

Sound Director

Yota Tsuruoka

Sound Production

Rakuonsha

Music

Yuki Kajiura

Animation Production

SHAFT

English ADR Writer & Director

Alex von David

Madoka Kaname:

Aoi Yuki / Christine Marie Cabanos

Homura Akemi

Chiwa Saito / Cristina Vee

Mami Tomoe

Kaori Mizuhashi / Carrie Keranen

Sayaka Miki

Eri Kitamura / Sarah Ann Williams

Kyoko Sakura

Ai Nonaka / Lauren Landa

Kyubey

Emiri Kato / Cassandra Lee Morris

Original Story

Magica Quartet

Chief Director

Akiyuki Shimbou

Screenplay

Gen Urobuchi


(Nitroplus)

Original Character Design

aokiume

Director

Yukihiro Miyamoto

Character Design

Takahiro Kishida,
Junichiro Taniguchi

Chief Animation Director

Junichiro Taniguchi,
Hiroki Yamamura

Effects Animation Director

Takashi Hashimoto

Sub Director

Hiroyuki Terao

Alternate World Design

Gekidan Inu Curry

Parallel World Art

Yocihi Nango

Art Director

Kunihiko Inaba


(st Tulip)

Art Setting

Moriyoshi Ohara

Color Setting

Hitoshi Hibino,
Izumi Takizawa

Visual Effects

Motoi Sakai

Director of Photography

Shinichiro Eto

Editing

Rie Matsubara


(Seyama Henshushitsu)

Sound Director

Yota Tsuruoka

Sound Production

Rakuonsha

Music

Yuki Kajiura

Animation Production

SHAFT

English ADR Writer & Director

Alex von David

Madoka Kaname:

Aoi Yuki / Christine Marie Cabanos

Homura Akemi

Chiwa Saito / Cristina Vee

Mami Tomoe

Kaori Mizuhashi / Carrie Keranen

Sayaka Miki

Eri Kitamura / Sarah Ann Williams

Kyoko Sakura

Ai Nonaka / Lauren Landa

Kyubey

Emiri Kato / Cassandra Lee Morris

Nagisa Momoe

Kana Asumi / Xanthe Huynh